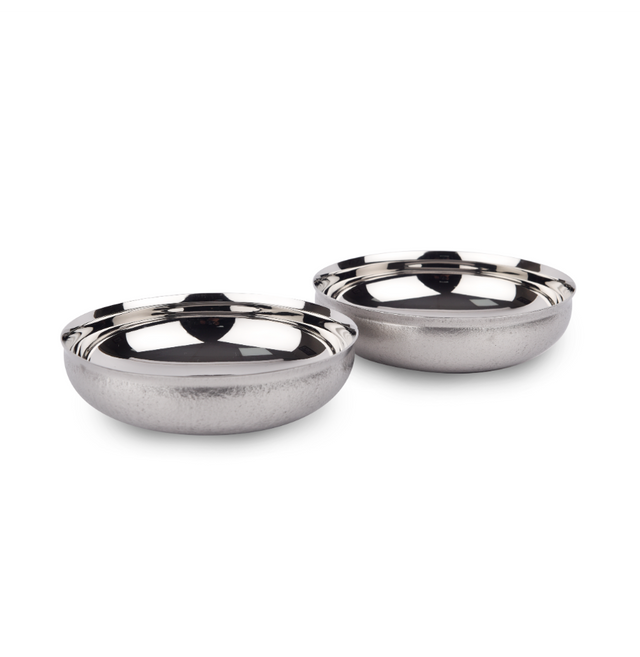 Serve all your culinary expertise in style with this Kalpataru Dahi Bhalla Katori Set of 2 Texture. Bring home this Katori that is sleek and sturdy and is ideal for everyday use as well as for parties. That's not it, this Katori with a stainless gleam is completely healthy and hygienic and is suitable for your kids' safety. Makes for a truly artistic choice that will surely spark a conversation at its first glance. Curate a wonderful serving experience with this alluring piece. Make it a beautiful gifting option to leave your friends in awe.
SKU : KR-16631-CN
Contains: 2 Kalpataru Dahi Bhalla katori
Shipping in India 2-4 days
International shipping 1-4 weeks
Product Description
Katori set is made of stainless steel.
A harmoniously crafted ribbed pattern adorns the bowl through impeccable artisanship!
High texture finish makes for a captivating experience.
Reflects sustainability in make.
Healthy and hygienic.
Item Dimension
Product Care Instruction
To clean arttd'inox products, you can use warm water and dish soap. First, wet the utensil with warm water and then apply a small amount of dish soap to a sponge or soft cloth. Gently scrub the utensil to remove any dirt or grime. Rinse the utensil thoroughly with warm water and dry it with a clean microfibre towel. For tougher stains, you can use a mixture of equal parts vinegar and water. Apply the mixture to the stain and let it sit for a few minutes before scrubbing it clean. Rinse the utensil thoroughly and dry it with a microfibre towel.
100% Stainless steel
2-year product warranty
30-day returns
Make in India
Sustainable & Green Metal 
Hand-Wash Only 
Healthy & Hygienic