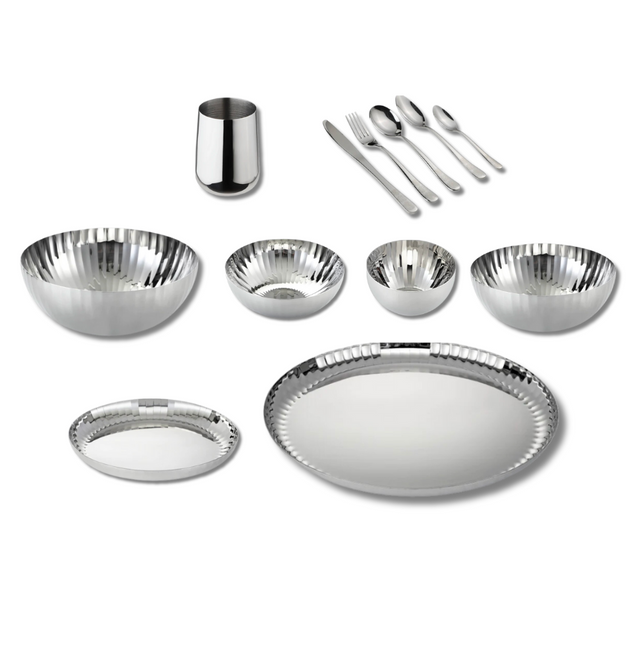 The Rhythm Garden Dinner Set from arttdinox is a stunning and functional masterpiece that adds elegance to any dining experience. Crafted with precision and care, the set features a rhythmic pattern inspired by a blooming garden and is made with high-quality stainless steel for durability and corrosion resistance. It includes all the essentials for a complete dining experience and is perfect for both casual and formal occasions.

Total 68 Pieces Set
SKU : f7bb9ca6-31fa-40e8-b9e5-3cae8a6417ba
6 Dinner Plates
6 Quarter Plates
1 Large Serving Bowl
1 Small Serving Bowl
6 Katoris
6 Small Katoris
6 Dahi Bhalla Katoris
30 Piece cutlery set
6 Tumblers

Total 68 Pieces Set
Shipping in India 2-4 days
International shipping 1-4 weeks
Product Description
Introducing the exquisite Rhythm Garden Dinner Set from arttdinox - a masterpiece of art and functionality. Crafted with precision and care, this dinner set is sure to elevate your dining experience to new heights.
Featuring a stunning rhythmic pattern inspired by the beauty of a garden in bloom, each piece of this dinner set is a work of art in itself. Made with high-quality stainless steel, the set is durable and resistant to corrosion, ensuring it will last for years to come.
The set includes all the essentials you need for a complete dining experience - from dinner plates and serving bowls to spoons and forks. Each piece has a smooth and polished finish, adding a touch of elegance to your table setting.
Perfect for both casual and formal occasions, the Rhythm Garden Dinner Set is a must-have for anyone who appreciates the finer things in life. Experience the joy of dining in style with this beautiful dinner set from arttd'inox.
Product Care Instruction
To clean arttd'inox products, you can use warm water and dish soap. First, wet the utensil with warm water and then apply a small amount of dish soap to a sponge or soft cloth. Gently scrub the utensil to remove any dirt or grime. Rinse the utensil thoroughly with warm water and dry it with a clean microfibre towel. For tougher stains, you can use a mixture of equal parts vinegar and water. Apply the mixture to the stain and let it sit for a few minutes before scrubbing it clean. Rinse the utensil thoroughly and dry it with a microfibre towel.
100% Stainless steel
2-year product warranty
30-day returns
Make in India
Sustainable & Green Metal 
Hand-Wash Only 
Healthy & Hygienic