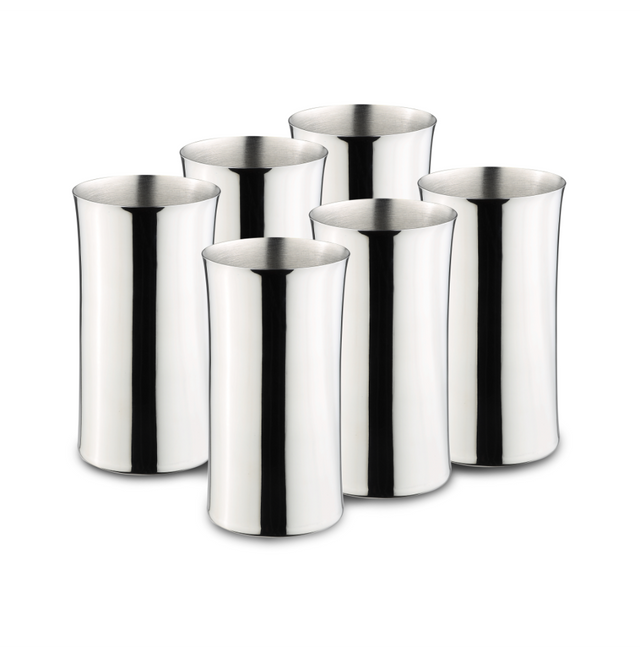 It is always important to treat your guests well and these Dainty & Tall Tumbler – Set Of 6, crafted in Stainless Steel act as the perfect accompaniment to lavish dinners that you are so popular for. The high-gloss finish adds a gleam to your table and is a sign of elegance & a regal lifestyle.
SKU : ATU-4731-N
Shipping in India 2-4 days
International shipping 1-4 weeks
Product Description
This tumbler is an eco-friendly piece made of 100% stainless steel.
It showcases beautiful flower patterns etched on its sleek stainless surface.
It can be used for all kinds of beverages.
It reflects sustainability in making.
It is healthy and hygienic.
Item Dimension
Product Care Instruction
To clean arttd'inox products, you can use warm water and dish soap. First, wet the utensil with warm water and then apply a small amount of dish soap to a sponge or soft cloth. Gently scrub the utensil to remove any dirt or grime. Rinse the utensil thoroughly with warm water and dry it with a clean microfibre towel. For tougher stains, you can use a mixture of equal parts vinegar and water. Apply the mixture to the stain and let it sit for a few minutes before scrubbing it clean. Rinse the utensil thoroughly and dry it with a microfibre towel.
100% Stainless steel
2-year product warranty
30-day returns
Make in India
Sustainable & Green Metal 
Hand-Wash Only 
Healthy & Hygienic