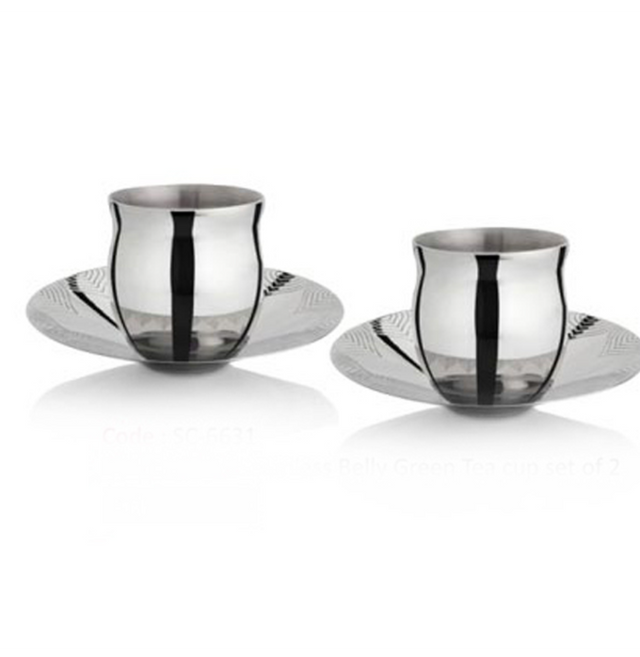 This Seamless Cup and Saucer set is designed to impress your guests. It's sophisticated, modern ,and makes a great talking point when you serve them their favourite beverage.Contains: 2 Cups And 2 Saucer
SKU : SC-6631
Shipping in India 2-4 days
International shipping 1-4 weeks
Product Description
1. Invest in quality and timeless elegance with this beautiful tea cup, artfully formed from Stainless Steel.
2. Expertly crafted, the unwavering appeal of traditional craftsmanship shines through.
3. The tranquil design will definitely make you want to sip your favorite brew.
Item Dimension
Cup-11.7, Soucer-16.2 x Cup-8.8, Soucer-16.2 x Cup-6.82, Soucer-2.31
Product Care Instruction
To clean arttd'inox products, you can use warm water and dish soap. First, wet the utensil with warm water and then apply a small amount of dish soap to a sponge or soft cloth. Gently scrub the utensil to remove any dirt or grime. Rinse the utensil thoroughly with warm water and dry it with a clean microfibre towel. For tougher stains, you can use a mixture of equal parts vinegar and water. Apply the mixture to the stain and let it sit for a few minutes before scrubbing it clean. Rinse the utensil thoroughly and dry it with a microfibre towel.
100% Stainless steel
2-year product warranty
30-day returns
Make in India
Sustainable & Green Metal 
Hand-Wash Only 
Healthy & Hygienic