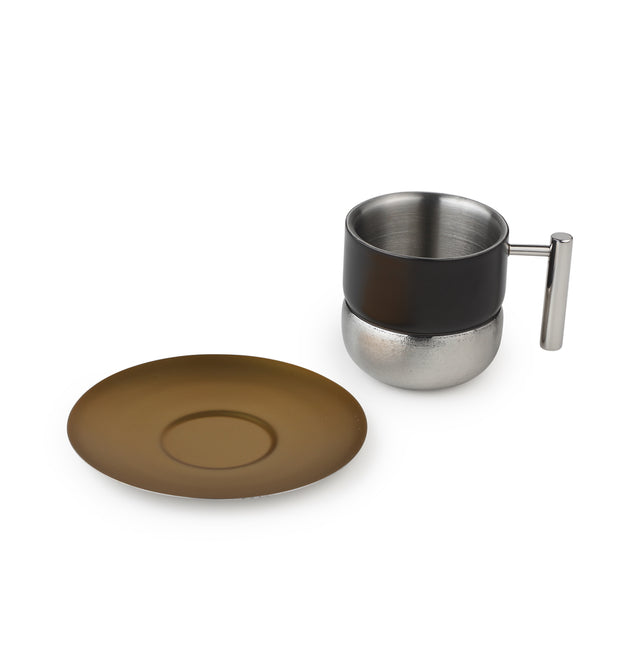 The Fluted Cup & Saucer - Small, crafted in Stainless Steel with a double-walled design - ensures heat retention on the interior and a cooler exterior that lets you enjoy your favourite brew, at all times.
SKU : ASC-9831-SN
Contains: 2 Tea Cups & 2 Saucers.
Shipping in India 2-4 days
International shipping 1-4 weeks
Product Description
Made of stainless steel.

It has a modern appeal due to the matte gold & black nickel PU coatings.

You'll desire to take another sip of your favorite brew due to its fluted form.

Reflects sustainability in make.

The double-walled cups are expertly crafted to assure heat retention on the interior & a cooler exterior.
Item Dimension
Product Care Instruction
To clean arttd'inox products, you can use warm water and dish soap. First, wet the utensil with warm water and then apply a small amount of dish soap to a sponge or soft cloth. Gently scrub the utensil to remove any dirt or grime. Rinse the utensil thoroughly with warm water and dry it with a clean microfibre towel. For tougher stains, you can use a mixture of equal parts vinegar and water. Apply the mixture to the stain and let it sit for a few minutes before scrubbing it clean. Rinse the utensil thoroughly and dry it with a microfibre towel.
100% Stainless steel
2-year product warranty
30-day returns
Make in India
Sustainable & Green Metal 
Hand-Wash Only 
Healthy & Hygienic